Welcome To The Faegenburg
My Dad Merrill's Slides - 1966 Thru 1970
These photos vary from different points in time in the Mid 1960's to 1970.
I may find some others as I put these Galleries together, but one of the main focuses was on a family that Mom and Dad knew
since moving to the Back Mountain area in Pennsylvania in the Mid 1950's.
Bill and Ruth Guyette were Mom and Dad's closest friends. We spent a lot of time either at their place or they at ours.
They were wonderful folks and all of us kids had tons of fun together. We used to go camping at Bear Creek among other
places. First gun I ever fired was a Japanese Infantry rifle that Bill had acquired sometime during WWII. Bill learned
his radio skills in the Navy, and would turn them into a VERY successful Communications business still in existence today
helmed by his daughter Mary Beth.
I found this photo of Bill in front of his first storefront in the 50's: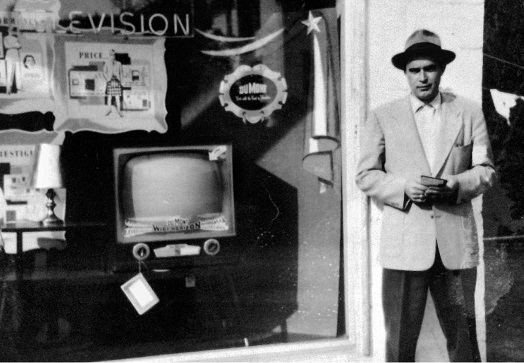 They had a son Jeffrey who was a year older than me, and we always played together when the families were visiting each other. I even spent
a week over at their house once when Mom and Dad went on a trip somewhere. That's when I got to shoot the gun! It knocked me on my ASS!
Tragically, Jeffrey was killed in a motorcycle accident in 1982 if I remember correctly. I remember Mom and Dad calling me at work that day.
I was working for the City Of Pinellas Park, FL as a Computer Programmer. Poor Mr. and Mrs. Guyette I don't think ever recovered from
that event. I can't even imagine how devastating a loss like that of a child must be. My heart still bleeds to this day over the tragedy!
I have some photos that Dad took in later years that I will be scanning and digitizing for subsequent galleries.
Lot's of great pictures to remember both Bill and Ruth. Of all my Mom and Dad's friends, they were two of the very Best for sure
and I loved them both and miss them very much!