Yes, that is my Dumb-Ass standing up on stage
playing the Bass! I will tell you a little bit about
that experience and the band.
But this MUSIC page is dedicated to the original
music of a band a friend of mine and I put together
just for the pure fun of recording the songs.
More on that in a minute!
P.S. (You will need to use Internet Explorer or Google Chrome to listen to the Audio Recordings - Microsft Edge is a No-Go!)
Also, make sure you are listening with headphones, or have your computer audio routed through a GOOD audio system. You don't want to miss all of the GREAT bottom end!!

And so, at the risk of being sued (for which I could really give a shit) I promise to tell the truth, the whole truth, and nothing but the truth so help me GOD! I promise to use only REAL names of the people involved. That way you will know there is NO bullshit to the story. You see, when I was a kid, I lied about everything to my parents. Even when I stole coins from my Dad's coin collection to spend on bubble gum cards, being the ONLY kid who was living in the house at the time, I would insist to my Dad even while he was getting the belt out to whip my ass, that "It wasn't me"!
So I vowed after becoming an adult, lies would no longer be my modus operendi. It serves no purpose. The truth cost me my chance to become a Police Officer. But I would have rather been truthful than a liar!
So that band that I spent most of my professional music business experience playing in was called: "Fatu and Main Squeeze".
We recorded one album and one 45rpm record. The guys I got to work with besides Fatu, namely Bob Richards, Chris Scott, and Sim Broadfield were a priviledge to work with.
Fatu on the other hand, was a Fucking Dick! The account of this story I will back with a Lie Detector test ANY FUCKING DAY OF THE WEEK!
Ths first part of the story occurred during my FIRST stint in Fatu's band, and we had no official name at that time. More on that in a minute!
I orginally got hired in the band in 1977 when they were working at Frank Canova's "Hawaiian Inn" on Saint Petersburg Beach. After a few months on the job, the drummer who was Samoan, just like Fatu, quit the band. I had been playing in an original music band, with the dope smoking moron guitar player (name still unmentioned), and we had a current drummer named Alex Ramirez. Well as it turned out, Alex unbeknownst to me, didn't like me or my bass playing very much. But I didn't know this at the time, and arranged for Alex to audition for Fatu's band. Alex was a GREAT drummer and got hired on the spot!
One evening after our final set, we were in the dressing room just off the back of the stage. Alex began to start a heavy complaint against my playing to Fatu. Only he, Fatu and Kuki Tuppo (our Samoan guitarist) were in the dressing room. When Alex started on his tirade, I got way fucking pissed and my exact words were: "You ungrateful mother-fucker, I GOT YOU THIS GIG"!
The next thing I knew, Alex took two steps toward me and slugged me in the mouth! And then to add insult to injury, Kuki came up behind me and bear hugged me so I could not defend myself!
I was fuming mad, and Alex said: "Fuck You, I GOT THE JOB"! He was right about that, but I got the audition for him which he NEVER would have even known about!
And so he asked Fatu to fire me because he knew a way better bass player named Brad Prince. I could have outplayed Brad with only one hand!
And so I got fired that night! I swear to GOD, the story is true!
Part 2 of this saga picks up around 1977 after Elvis Presley had died. You see, Fatu was an Elvis Impersonator. He actually had a GREAT voice and could do a really good job during his show and we played all of Elvis's hits. God I hated those fucking tunes!
So at the time, being a starving musician, I was driving a delivery truck for Ace Auto Parts in Saint Petersburg, and happenned to get a call from the Local Musicians Union about an audition going on at the old Central Avenue Theatre in downtown St. Pete. It was for Fatu's new Elvis Tribute band.
Chris Scott was the hired drummer, Bob Richards was the hired guitarist, and Sim Broadfield was the hired keyboardist. Final slot to be filled was the bass position. And guess who the fuck was packing up from his audition at the time of my arrival? Good ol Brad FUCKING Prince!
No big deal. I plugged in my shit, and we ran through some tunes, and when we were done, Bob and Chris gave me a big thumbs up, and Brad Prince got the BIG FUCKING THUMBS DOWN!
And so we went on performing around the area for a year or so. The finality of that band and the bullshit that went on with Fatu and our band manager Dennis Bray, was a whole nother fiasco let me tell ya. Two fucking jack-offs from the word go!
I had started college classes for Computer Science once the band had a local house gig in Bradenton, FL.
But tensions soon arose, and when the band members discoverd that we were about to be fired and replaced by a whole new backing band, we staged a coup and quietly packed our gear on our day off and disappeared from the Fatu scene.
Shortly after, I got a call from Kuki Tuppo, the old guitarist from Fatu's first band at the Hawaiian Inn, as he had a new house gig at the famous: "Lenny Dee's Kings Inn" on Treasure Island. And what was really great is that Chris Scott got hired as well.
You see Kuki was JUST as good an Elvis Impersonator as Fatu and was a better singer to boot. Plus he wasn't an asshole like Fatu was!
I was Facebooking with Bob Richards the other day and I was mistaken about him working with Chris and I on this gig as I had originally written in this section. Very sorry Bob and glad you clarified for me. I could have SWORN he was there with us! Perhaps Ron Reinhardt was working with us. Oh well, it's hell gettin old and forgetful!
And so, I used that gig to put myself the rest of the way through college.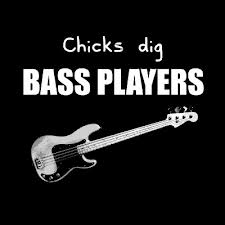 Now let's get to the real heart of what this part of my website is all about! When I got the job at the Hawaiian Inn, I was hanging out with a good friend and to this day, professional keyboardist by the name of Ron Reinhardt. Ron has a brother Dave (a drummer) and his father Ron Sr. is a GREAT saxophone player.

I had worked up some original music (manuscripts on file in the Library Of Congress) and Ron had as well. I used to sneak them into the Hawaiian Inn once in a while (just Ron Jr. and his brother Dave), and we would jam and play some of our stuff and play some Weather Report tunes too, becuse all three of us LOVED Weather Report!
So sometime during 1978, the three of us along with Ron's Dad, got out a tape recorder, and laid down the only known copies of these tunes.
We had an absolute blast! Ron's parents were so cool. Ron and Dave's bedrooms were soundproofed for recording! We were each in separate rooms and Dave would click the sticks to count off the cadence!
And so it is with monumental pleaseure, that I present to you, those few tunes that we recorded. Ron's tunes were ALWAYS exceptional, and displayed why he would later go on to become a recording artist and house band member with Smooth Jazz artist Richard Elliot (no joke folks, Ron is the REAL DEAL)! Dave was part of that lineup and recorded with Richard as well. You can find Ron on Facebook or check out some of his videos on YouTube.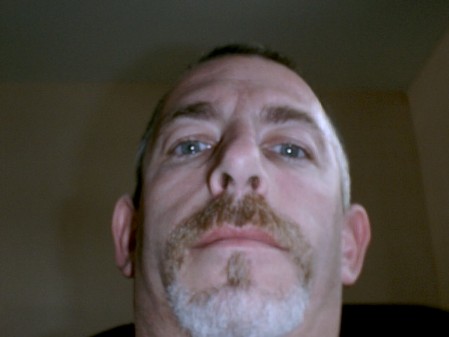 This tune which I never named, was the last tune I ever wrote. I am so honored to have Ron, Dave and Ron Sr. to capture my little piece of musical history. What is really funny, and shows just how badass the Reinhardt family is as musicians, it seems that when I wrote out the charts, I neglected to properly transpose the Sax parts in the proper key. No problem for a pro like Ron's Dad. He not only sight-read the tune with no rehearsal, he did the transposition in his head as he played. Fucking badass dude! I need to point out that this is the original take without Ron's overdubs and Ron Sr. on Saxophone. That follows later.
Garry's Tune - (Original Soundtrack)
01 Garry's Tune - (Original Soundtrack)
00:00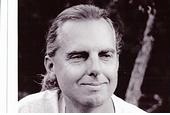 This tune is simply named: Ron's Tune 1. Ron has probably given it a name by now which I would be glad to publish here if he lets me know. Initially Ron wrote this to be a tune for just he and Dave to record. But I begged and BEGGED and promised not to overplay and keep it just like he wanted me to, to match his keyboard bass lines. I am Soooo glad he let me do it. I LOVE this tune.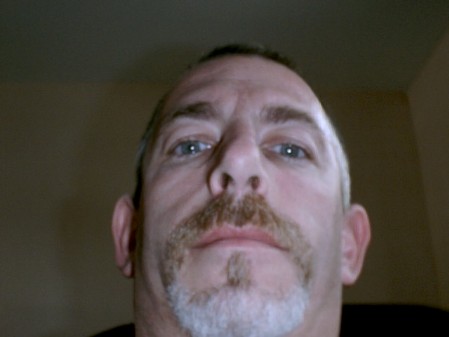 This tune is named: "Allegro Moderato". That stands for Moderately Fast for you dumb-shits out there! This is the only tune I ever played a guitar on. I borrowed a Les Paul Jr. from an old now deceased friend named Mike Reckenwald. I remember days of jamming over at Mike's house. He was a great guy. Sad that he is no longer with us. But that guitar was killer and had an awesome sound. Too bad I couldn't play it. But I did what was within my realm that I wanted for the song. Ron kept insisting I do a solo on the overdub, but me being the complete shit musician I always was, refused because i didn't want to prove to the world just how bad a jazz bass player and musician I really was. Remember, I could memorize ANYTHING to play, but that was as good as I ever got!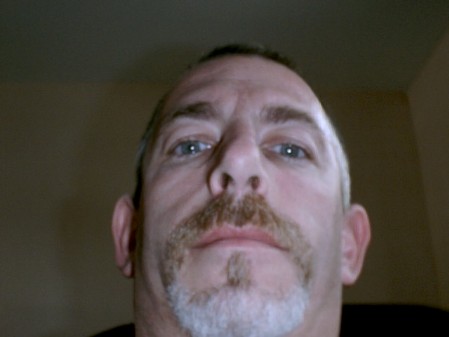 This tune is named: "

I Guess I Should Have Known"

. That name stood for the fact that as I struggled to come up with a name for it, I finally said to myself, I should know what the fuck to name this thing! You see how sometimes stupid ideas come out to be song titles!
By the way, I mentioned before about not having written the Sax parts in the proper key, and you will hear Ron Sr. playing and instantly transposing the key on the spot! AMAZING!
I Guess I Should Have Known
04 I Guess I Should Have Known
00:00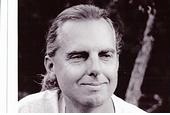 This tune is simply named: Ron's Tune 2. Ron has probably given it a name by now which I would be glad to publish here if he lets me know. Now here for the first time, I take a solo on a tune, and you are gonna hear just how shitty a soloist I ALWAYS was. I am embarassed by this recording, only because I really sucked on the solo and also sounded way out of tune. Not gonna blame it on the fact that I used a fretless bass most of my career professionally. I sucked plain and simple! You have to know I am not making this up folks. Truth requires that even when it makes you look bad, it is THE only right thing to do! Truth=Honor!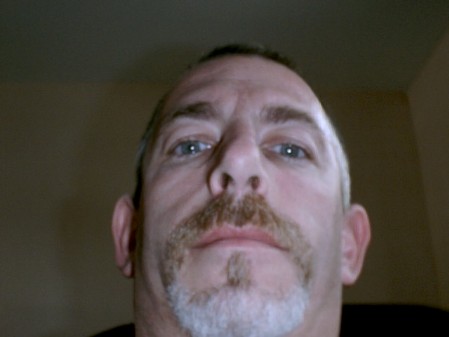 This tune is named: "

Summer In Peking"

. This was the ONE and ONLY time I had the name figured out right when I started putting the song together. You will notice there are TWO Audio plays underneath these captions. The first one is the Intro for the song, which I performed on a small Clavinet I bought when I was first attending college as a Music Major. Yes I did one full semester at Saint Petersburg Junior college. In case you don't believe me, here is the transcript: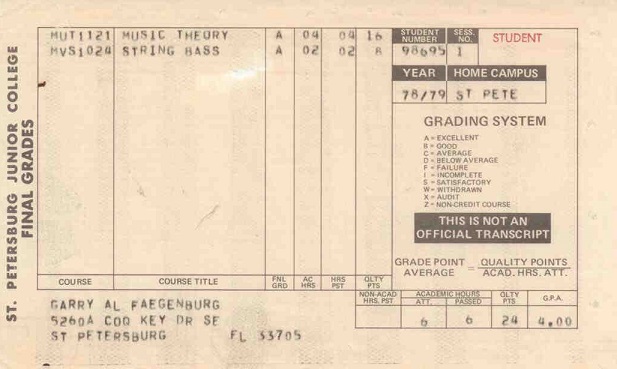 So listen to the Intro and then listen to the full song. I never married the two together because on this one and only take of the two, I sat at the Clavinet holding my bass, and when I finished the Intro, we started the main tune. There was too much lag time in between and I never got around to marrying them together with software. I can do that now but just have not completed it. Kinda nostalgic to keep it the way it was performed.
What really made this song for me was Ron's Synthesizer work and ALSO and most importantly, Dave's drumming. You see, all three of us had caught a recent performance by Louis Bellson, a famous Jazz dummer who was married to Ella Fitzgerald, and Louis happenned to appear on Johnny Carson's "The Tonight Show". He did this amazingly cool pattern on the show and Dave just fell right into it in the portion of the song where it fit PERFECTLY. It made the song for me!
One other note by the way, As a String Bass Major (they had no program for Electric bass so I was forced to learn Double Bass) my instructor was John Lamb, now 85 years young and he used to play with Duke Ellington. No bullshit! Here is a link to Wikipedia for John: "John Lamb on Wikipedia".
06 Intro To Summer In Peking
00:00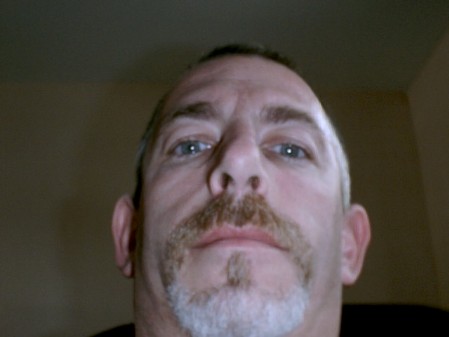 This is the unnamed tune at the top of the playlist here only this version is what i call: "The Director's Cut". This is the version that has both Ron Jr. and Ron Sr. doing the overdubs together. As much as I liked this version, I still like the plain vanilla version of just Ron Jr. and his brother Dave playing it. Not taking away anything from anyone here folks, just always heard the song in my head, the way we recorded it first. Also keep in mind that Ron Sr. once again was sight-reading and transposing all at the same instant while playing the chart! That IS FUCKING BADASS!
Garry's Tune - (Director's Cut)
08 Garry's Tune - (Director's Cut)
00:00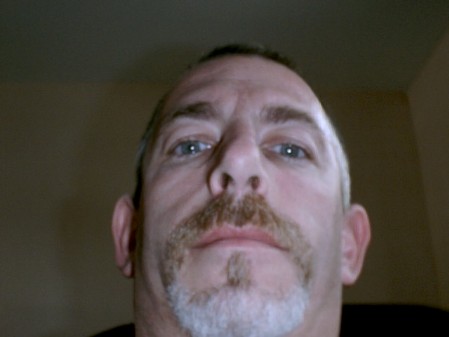 On Jaco's debut album, he had a tune titled: "Portrait Of Tracy", an incredibly monumental solo piece of utter amazement. At one time I did a fair renditiion of this tune. I got a transcript of the tune and figured out most of the lines, but there were a couple of special techniques that Jaco used that were absolutely so out of my league, I was forced to come up with an alternative. I used a customized Fender Jazz bass pictured below. A very famous luthier named Bob Benedetto who used to have his shop in Seminole, Florida pulled the frets out of the neck and did an inlay, just like Jaco's bass had. The thing sounded sweet. I plugged straight into a stereo receiver in my parents living room (yeah I was still living with Mom and Dad at the time) and made the recording. Hope you dig it!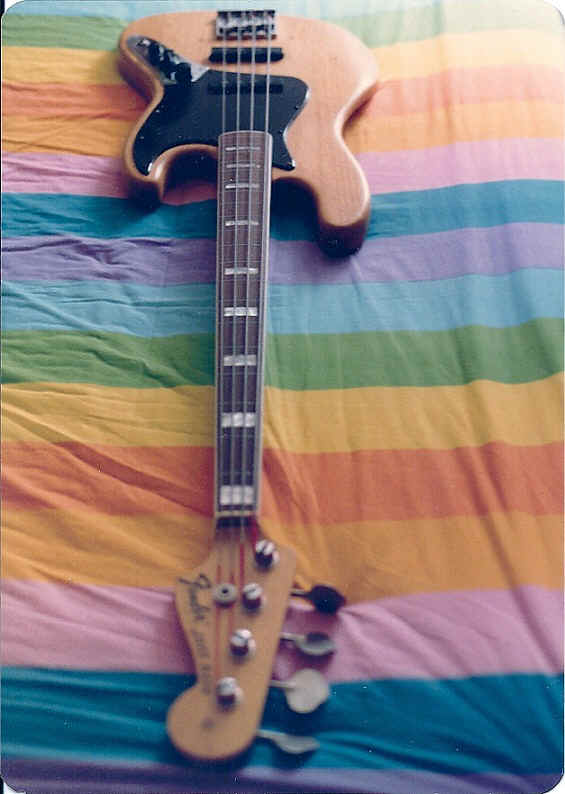 Portrait Of Tracy - Jaco Pastorius
09 Portrait Of Tracy - Jaco Pastorius
00:00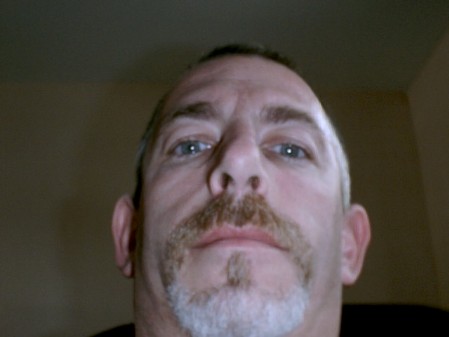 Another famous solo piece of Jaco's was entitled: "Amerika". It wasn't until about 2010 that I had the equipment I wanted to use to try this one on. By that time, I was late in my career as a Systems Programmer and had three hand surgeries performed so that I could finish up the last few things I wanted to put down on recordings because my body has been deteriorating rapidly and I knew time was just about up to be able to play any more music. I did this on my 5-string Ibanez SD-GR Bass (fretted). I could no longer keep intonation on a fretless because of hand weakness and I was way way into Tom Kennedy's bass playing with the Dave Weckl band, and doing stuff on the 5-string just had to be for me! So I used my Zoom B2.1 effects pedal to get some Flange and other cool effects. here is a picture of my rig: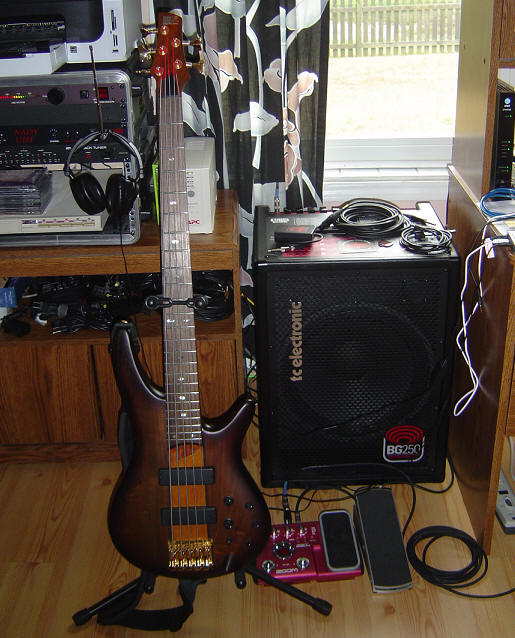 Just a couple of weeks ago, I gave this entire setup to my oldest daughter's boyfriend Kyle, no strings attached for free! I needed it all to get a good home as I deal with so much neck, back, hand and wrist pain, I simply can't play anymore! I know he will have lots of fun with it.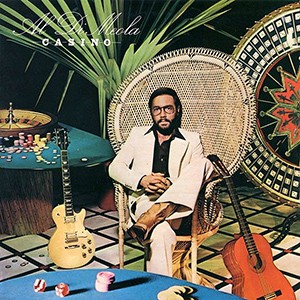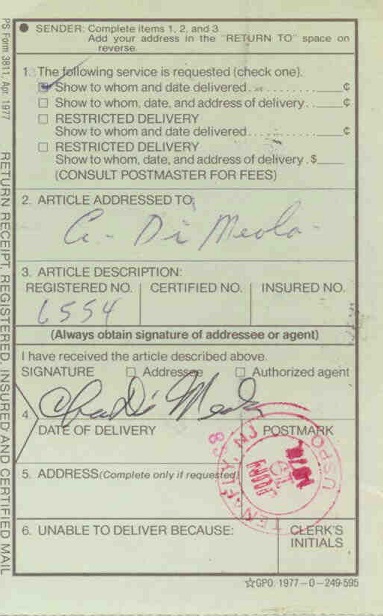 Interestingly, me being a Bass Player all my life, never dictated the musicians I
followed. It seems that outside of Jaco Pastorius and Tom Kennedy, I was more
focused on the whole band's sound. And when Al Di Meola burst onto my music
world in 1974, I simply died. Al will forever be my most favorite guitarist. No
one smokes the fretboard with virtuostic intensity like Al does. His note choices
are impeccable. While I have loved all of Al's solo albums, I am still enthralled
to this day with his performance on the
Romantic Warrior
album when he was
with Chick Corea, Stanley Clarke and Lenny White!
I have a funny and true story to tell. In 1978 as my career as an EMT in Florida
was drawing to an end, I was getting ready to move into being a Professional
musician. While I have ALWAYS had above average talent as a Bass Player,
I am the FIRST to always tell you just what a truly shitty musician I actually
was. Instead of learning to sight-read and study Music Theory, I spent my
time hanging around a moron guitar player (whose name shall go unmentioned)
and all we did was smoke dope, and make horrible music, and still think we
were God's gift to the music business.
But the story is, I wanted to play in Al's band so BAD, I sat down one day
and made an overdub recording of me playing:
Egyptian Danza
from Al's
Elegant Gypsy
album. I smoked it and still have the tape to this day. BUT
the really funny part is that after the recording, I added a personal voice message
on the tape, but I didn't have a microphone. So I used a set of stereo headphones
and plugged them into the Mic Input on the Receiver, and spoke into one of the
earpieces (I'll bet you didn't know that this actually works!). I pleaded with Al
that I was ready to come to New York and join his band and that I was REALLY
Ready for the big time. I have to laugh at myself on this one. Yes, it did take
some big balls to send a guy like Al Di Meola a demo tape, but it took some
even bigger balls to stand up to all the ridicule I got from everyone who knew me
or had worked with. I sucked as a musician! I couldn't solo my way out of a wet
Paper Bag as they say. I could memorize and play just about anything thrown at me
but when it came to actually knowing what I was doing on the instrument, I was
So just so there is never any doubt, to the left you will see the Certified Mail
receipt from the USPS in July of 1978, for the delivery of that very tape to
Al's residence in New Jersey. IF he actually listened to it, it is my sincere
hope that he laughed his ass off! He no doubt thinks I am an idiot if he really
did hear it, but as my dear old father always told me: "Garry, no guts, no glory"!
And just so there is no mistake or misunderstanding, the original track from the album
is being played, and I am overdubbing the Bass Lines. There should be no mistaking the
fact that most of Anthony Jackson's Bass Lines are getting drowned out from the over
rev'd input level of my Bass. I tried to match him line for line, but you will hear many
spots where you can clearly hear his Bass because he play's a six-string Bass and I was
on a standard four-string Bass. I don't want anyone thinking this was the actual album
version as I am sure Al Di Meola would have my head on a chopping block. I am hoping
this disclaimer will Alert everyone as to what this recording was all about and is for nothing
other than the sheer entertainment value of listening to my whiney little cry-baby ass trying
to plead to a famous Super-Star Jazz Guitarist to let me audition for his band!
Sit back and laugh, as well as marvel that I actually did a pretty good job on the actual playing
of the Bass Lines. Quality of the recording is poor due to the equipment.
This track is also NOT downloadable, in order to protect Al Di Meola's copyright, as the last
thing I need is for him to sue my ass!
Egyptian Danza - With Garry Faegenburg overdubbing the Bass Lines
And so this concludes the Audio portion of our program!
Please be sure to check out the Special Features page of the website where you will read about and hear me play along with the famous Dave Weckl Band. Yes you read that correctly! But it is not quite what you think. Please visit the page and read all about this incredible experience I was able to take part in. Simply AWESOME!