From our kitchen to yours!
We hope you will try them all!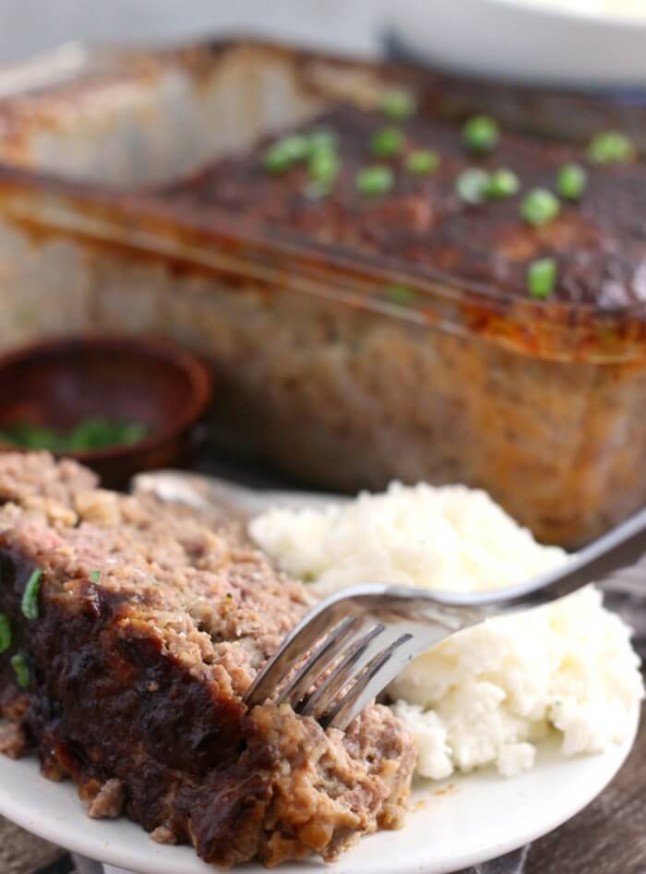 The WORLD FAMOUS Rosemary Faegenburg's Steamed Meatloaf
Ingredients
3 lbs Ground Beef (80 % is best)
1 lb Loaf of Pepperidge Farms Original Sliced Bread
Preparation
In a large bowl, put the 3 lbs of ground Beef in and season with Garlic Salt, Salt and Pepper. How much Garlic Salt you use is up to you. We like a lot, but don't over do it! The regular Salt and Pepper is just for taste. Easy does it on the Pepper (Fresh Ground Pepper is best, but you can use the regular stuff if you want to).
Cut your Onion into slices and then dice. Don't dice it too small. Larger sections taste best when all is said and done. Add the Onion to your mixing bowl. Now add your two eggs.
For the bread, slice the crust off the whole loaf all the way around (use a good serrated blade and you can accomplish this very quickly). Then cube the bread into half inch squares and add to the mixing bowl.
Now for the fun part: Use your hands and blend all the ingredients together. Make sure you get an even distribution of all ingredients. After you get everything mixed up good, form a loaf. You don't want the loaf too high because you are going to place it into a deep skillet and you want to make sure the lid will stay on properly. Once you have the loaf formed, pat it all over with the flour. Apply liberally to cover the entire loaf.
Cooking Directions
Step 1 is to brown the loaf in a skillet on the stove. Use a Teflon coated skillet so it doesn't stick. Cook over a medium heat. Brown on all sides. You will need two good strong spatulas to maneuver the loaf and to turn it over (and also to stand it up so that you can brown the four sides as well). This should not take more than a few minutes (Keep a close eye on the heat and don't burn it!)
Step 2 is to place the browned loaf on a rack in a deep skillet. Finding a good rack will be the biggest challenge. I have a great Aluminum rack that Mom gave me that gets the Meatloaf up about 3/8 of an inch above the bottom of the skillet. Before I had this I used to use a round wire rack that I found at Waccamaw Pottery. The rack was included with a deep pot. It was not quite as high as Mom's trusty Aluminum rack, but it got the job done. Once on the rack, you will want to add water up to the bottom of the Meatloaf. Now put the cover on the skillet and bring the water to a slow boil. Medium heat just to keep the water rolling moderately. Check the water level every 20 minutes or so. Make sure you keep adequate water in the skillet to keep the steam going.
Cooking time for a 3 lb Meatloaf is about an hour and a half to 2 hours depending on the amount of heat you use (you can use just a tad bit more heat when in a hurry, but be sure to keep a close eye on the water level to prevent a burn!).
To test if it is done, poke a dinner fork into the top of the Meatloaf, take the fork out and press on the top of the loaf where you poked the fork. Some juice should run out and it will be clear when it is ready to serve.
Serving suggestions and tips from Mom
Once you get the Meatloaf out of the skillet and onto a large plate, use an electric carving knife (if you have one) to slice it. Make the slices about 3/8 of an inch thick. No electric carving knife? That's ok, but make sure you use a real sharp blade so the loaf doesn't fall apart as you slice it.
Our favorite is to serve with Mashed Potatoes and steamed carrots (I like some Ketchup for dipping too!).
Now, Mom served her meatloaf a different way. First of all, she only made about a 1 1/2 pound Meatloaf (use half the ingredients listed). This left enough room in the skillet for some peeled small potatoes and fresh peeled carrots. The only reason I don't make it that way is because I love having lot's of leftovers for cold Meatlof sandwiches (Dad used to get real annoyed with me because I always wound up eating the last piece of leftover Meatloaf before he had a chance to have it for lunch on Saturday afternoon!).

Ok, I am not sure this even qualifies as a RECIPE, but anyway, I say I did this first!
Ingredients
2 lbs. cooked large Tail-On Shrimp
2 Fresh Jalapeno Peppers (BIG ones!)
1 Fresh Habanero Pepper (you can choose how big)
1 Bottle Heinz Cocktail Sauce
Directions
Slice the Jalapenos, do not dice, do not take out the seeds!
Empty the Heinz Cocktail Sauce in a bowl.
Stir in the Jalapeno's and the Habanero.
Grab a shrimp and scoop the Fire Sauce with it. Be sure to get at least one slice of Jalapeno on top of the shrimp before you eat it!
(serves at least one and entertains everyone else in the room who watches the sweat pour off your head after two!)
Anyone surviving this appetizer has earned a bottle of The KING of Beers!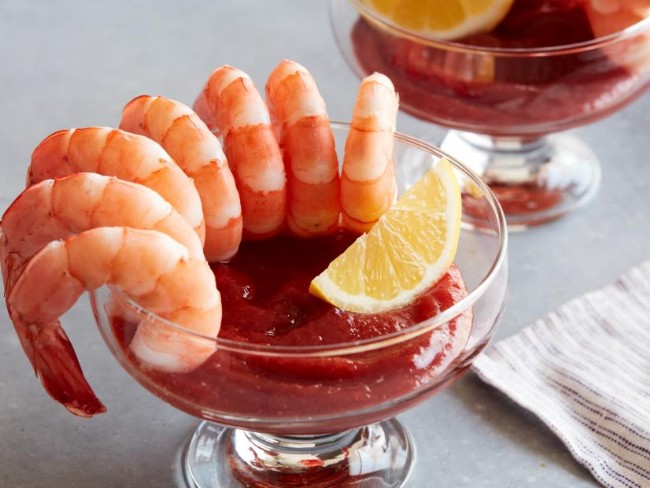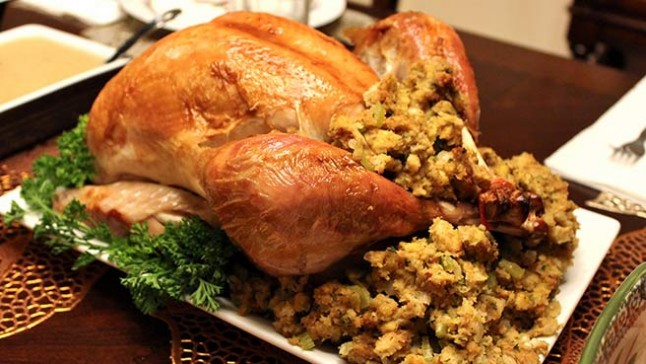 Rosemary Faegenbug's Roast Turkey and Stuffing
Forget about all those myriads of stuffing recipes that have a gazillion ingredients. Grandma Faegenburg's stuffing was down home simple. But don't let the fact that it
only had a few things in it fool you. It is bursting with flavor that doesn't try to overpower everything else in the meal. Everyone at the table will be happy campers
when they taste this special treat! The real secret to the success of the stuffing is that the juices of the turkey do all the seasoning. It is just that simple.
By the way, you can adjust all the ingredients based on the size of the Turkey you want. I usually do a 20 pounder or so and double the stuffing ingredients.
Ingredients
1 1 lb. loaf of bread (cubed)
Salt, Pepper and Parsley Flakes
Directions
Brown onion and celery in butter, add to bread.
Add water, salt, pepper and Parsley Flakes. Mix well.
Cool to approximately the same temperature as the turkey before stuffing the bird.
Place on rack in pan Breast side down. Reverse half way through cooking.
Bake at 325 degrees for 4 hours.
So Simple and SO Delicious!
And the leftovers for Turkey Sandwiches are the BEST!

Lori's Famous "Salmon de Lori"

Lori has the most FABULOUS recipe for Salmon that you have ever had!
You will want to get frozen Salmon filets from your local Costco, Sam's or grocery store. Thaw them out fully and keep in fridge. Prepare them the same day they thaw.
This recipe is enough to do 5 good size, boneless Salmon filets.
In a large plastic (one gallon size) zip-loc freezer bag, combine the following ingredients:
1 bunch, green onions sliced (just use the white section and separate the sections)
3 large garlic cloves, minced (use fresh only)
2 teaspoons Lawry's Lemon-Pepper Seasoning
Now generously sprinkle extra Lemon-Pepper Seasoning and Dill Weed on both sides of Salmon filets and place them in the marinade bag and zip the bag up (make sure it is good and tight cause you don't want to spill any of this!). Get them all coated thoroughly and in a single layer inside the bag. Place on a large plate and keep them in the fridge for about 2 hours.
The Preparations
Get out your two-piece broiler pan and wrap both the drip pan and the broiler grill in heavy duty Aluminum foil (makes for a nice easy clean up). Also, if your broiler grill is slotted, make sure the foil keeps the slots covered. Do NOT let the foil get any tears in it.
Now get the marinated filets out of the fridge, about 45 minutes before dinner time, leave them in the bag, but let them get to room temperature.
Once at room temp, get them out of the bag and arrange them on the broiler plate. Use a slotted spoon to scoop out the onions and garlic to put on top of the filets. You can also pour a little bit of the leftover marinade that has not been absorbed, over the tops of the filets. Just a wee bit. You will be surpised at how much the fish did absorb of the liquid.
Place the oven rack two levels under the broiler and get the broiler on High heat. Always remember to NEVER close the oven door completely when using the broiler. Leave it open at that first notch.
Once the broiler is good and hot, pop in the filets. Cook about 5-6 minutes per side. Make sure they do NOT get scorched on top. Watch them closely during the cooking time.
That is all there is to the preparation of the fish.
Try out our favorite sides for this meal:
The Sides
Long-grain Wild Brown Rice.
1 stick of butter (8 Tbsps)
Mix in large sauce pan and bring to a boil. Now cover and lower heat to a very low simmer. Takes about 35 minutes total cooking time. Stir with a fork every couple of minutes to prevent clumping of the rice.
Now just before all of the liquid is absorbed by the rice, dump in a whole bunch of fresh, sliced small Portabello mushrooms. Don't add them too early because they absorb liquid very quickly, and then your rice will be undercooked.
Steamed Cauliflower
1 large head of Fresh Cauliflower (cut off stem but keep the head in one single piece)
Place about 2 quarts of water in your large steamer pot. Put the Cauliflower in the Steamer Basket and place in the pot and cover.
Bring water to a boil and boil for about 10-12 minutes. Now turn off the heat and keep covered until the Cauliflower is tender but NOT overcooked.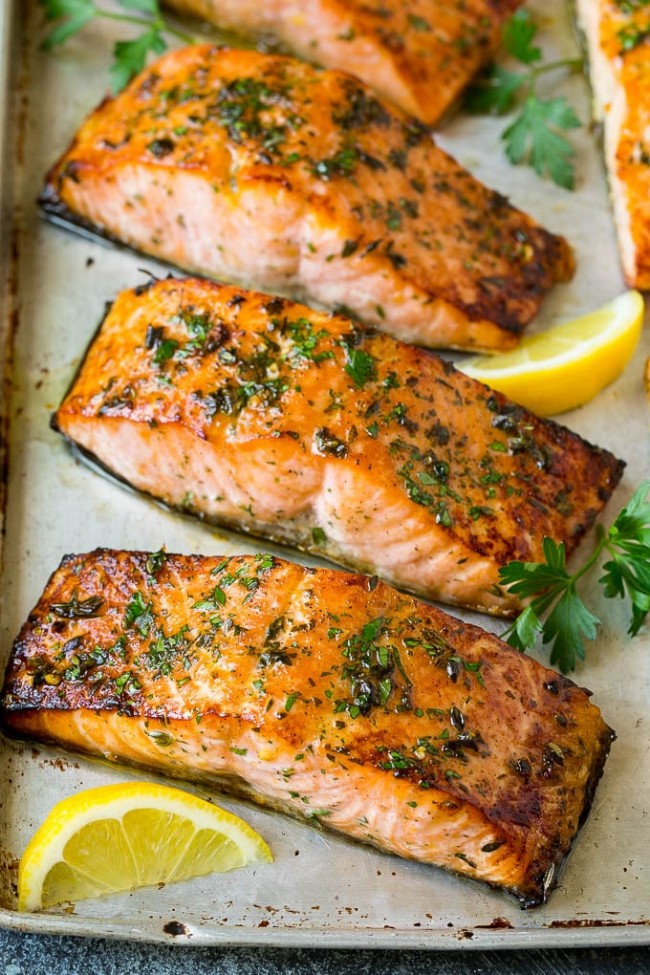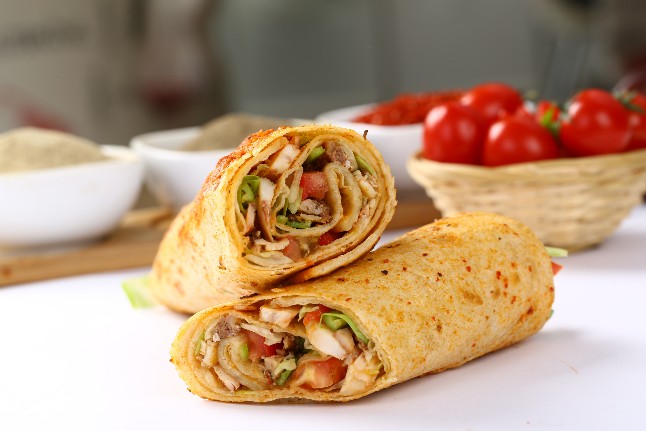 Ingredients

1/2 lb. Butterball Cajun Turkey Breast (sliced thin)
1/4 lb. Dietz & Watson NY State Hot Pepper Cheddar with Buffalo Wing Sauce (sliced thin)
4 Fresh Jalapeno Peppers (BIG ones!, sliced NOT too thin)
4 dozen Thai Chili Peppers (trim off the tips and the ends just to get the stem off)
1 Fresh Cucumber sliced thin
1 Fresh large Tomato sliced thin
1 Bottle Old El Paso Taco Sauce (Hot style)
1 Package of large Tortillas (10" size)
(required - LOTS of ice cold beer on hand!)
Directions

1. Lay a single tortilla on a plate.






2. Arrange 4 slices of the Cajun Turkey Breast, centered in the tortilla.






3. Take a slice of the Cheese and fold or cut it into 4 strips. Make two rows in the center of the Tortilla on top of the meat.



sliced Tomato on top of the cheese. Try to arrange so it is a single layer.

4. Next, arrage slices of Cucumber in a single layer on top of the Tomato.






5. Arrange two rows of sliced Jalapeno Peppers centered on top of the Cucumber.






6. Now take a dozen of the Thai Chili Peppers and arrange 6 on each side of the layers of meat/cheese and veggies.






7. Drizzle on some Old El Paso Taco Sauce (As much as you dare!).






8. Optionally, you can add some sour cream on top too, but I like it without cause the burn is way hotter!






9. Fold it up and you are off to the races.



This should be enough for about 4 Burritos. Real men can eat two, and a Top Gun can eat one with only a sip of beer in between bites.

Beef Stroganoff (This is one of my favorite recipes that Lori makes for us)
Ingredients
2 lb. Delmonico Steak, cut 1" thick
2 cans Cream Of Mushroom Soup
1 pound package of Extra Wide Egg Noodles
Directions
We used to use Sirloin steak for this but the meat was tough sometimes. I tried this once using some Delmonico Steaks that we got from Costco and what a difference. If you want the best and easiest way to slice the meat, use an electric carving knife. It makes quick work of the slicing chore. Slice beef across the grain into thin strips. Pull apart any fatty sections and then pile the slices on top of each other and then slice them in half length-wise and then in half width-wise.
In skillet over high heat, melt the 4 tbsp. of butter, and then add the beef and onion, (salt and pepper to taste if you like) cook until meat is no longer pink and onion is tender. Turn off the heat now.
Now to remove the fat: take about four paper towels and wad them into a ball. Move all the meat and onion mixture over to one side and then tilt the pan slightly to the opposite side. This will let the grease roll down the hill so to speak and will form a nice little puddle for you. Stick the wadded up paper towel in the puddle of grease until it all absorbs. Then just toss in the trash. No fuss no muss, and no pouring grease down the sink!
Now get your noodles boiling so that they will be ready when the Stroganoff is done.
Stir in soup and paprika to the meat and oinion mixture and heat throughout (not too hot!).
Stir in Sour Cream (just before the noodles are ready). Serve over hot cooked Extra Wide Egg Noodles.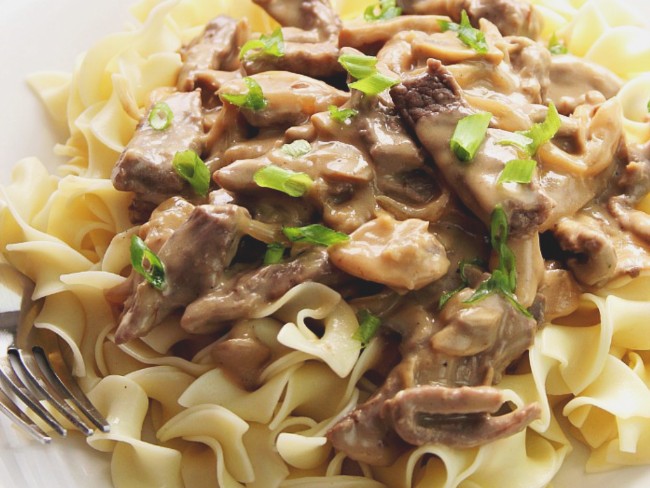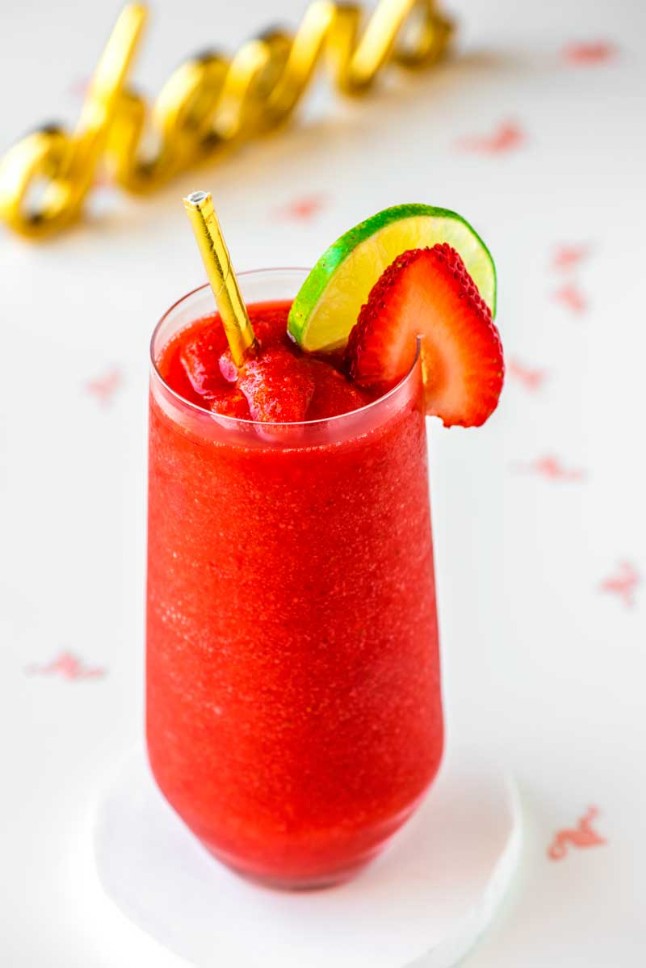 1.75 Litre Bottle of
Bacardi
White Rum
4 cans
Bacardi
Mixers Strawberry Daquiri Frozen Mix
1 Quart Fresh Strawberries (cut the tops and stems off)
Ice cubes (get the good stuff from the grocery store, DON'T USE CRAPPY TAP WATER ICE CUBES!)
Get out your electric blender first.
Now empty a can of the Bacardi Mixers frozen mix into it.
Fill the can about 1/2 to 3/4 full of Bacardi Rum (fill the can if you plan on getting the gang wasted!) and empty that into the blender
Now add about a dozen or so of those fresh strawberries to the blender. Be sure not to overfill because you need room for lots of Ice Cubes.
Depending on your blender, you are going to have to eyeball this on your own. My blender is an old 48oz blender so use this as a guidline.
Once the berries are in you should have about 3 inches of space left in the blender. Load the rest of the space with ice cubes.
When the blender gets all the cubes chopped up, you can start increasing the speed a bit. Mixture should thicken quickly to that wonderful frozen Daquiri state!
(If the mixture is a little thin, just pour a small amount out and add more ice cubes to achieve the right consistency. This is where practice makes perfect!).
Get your glasses ready, and slice some limes into quarters. Squeeze a quarter lime into each glass and drop in the squished lime too!
Time to pour and add a straw. Garnish to your own liking (Pineapple chunks, or Cherries, or another slice of lime).
And now it's
HAMMER TIME!
Feeds a Platoon of Marines!
Meatball Recipe - Makes 30 Meatballs
1 1/2 Pounds of Ground Chuck
1 1/2 Pounds of Ground Pork
3 Large Eggs
1 Cup Italian Seasoning Breadcrumbs
3 Tablespoons Italian Parsley
(Best if you can find FRESH at your grocery store)
1 1/2 Teaspoons Garlic Powder
1 1/2 Teaspoons Fresh Ground Black Pepper
3/4 Cup Grated Parmesan Cheese
(Get fresh cheese, DO NOT USE Kraft Grated Parmesan in plastic container!)
Add meat to large bowl and add dry ingredients first, followed by
the wet indgredients.


Mix by hand VERY THOROUGHLY until consistency is almost
like a paste.
TIP
: Keep a bowl of white flour next to you and dust your
hands with the flour every
four or five meatballs as this will
help prevent the meat from sticking to your hands.
Do not over handle the meatballs.
Roll them as quickly and efficiently as you can.
Roll meat into 1 1/2 inch meatballs, and place on Saran Wrap.
You may want to make the meatballs the day before and place
them in the refrigerator.

This firms up the meatballs, so that you can place all of them
in the warm spaghetti sauce when you prepare it the next day.
They won't fall apart on you when you put them in the sauce.


Spaghetti Sauce Recipe

(4) 29 ounce cans of Contadina Tomato Sauce
(2) 12 ounce cans of Contadina Tomato Paste
(2) Whole Garlic Cloves crushed
1 cup of grated Parmesan Cheese

(Get fresh cheese, DO NOT USE Kraft Grated Parmesan in plastic container!)
Salt and Pepper to taste
1/2 Teaspoon of Crushed Red Pepper
1 handful of chopped Fresh Basil (about .75 ounce package)
Add Grated Parmesan, salt and pepper, garlic cloves,
Crushed Red Pepper and Red Merlot. Mix thoroughly.
Use very low heat to bring mixture to a simmer.
(Use vented lid on your pot!) Stir frequently to prevent burning.

Once the sauce has warmed up, add the chopped Basil and Parsley,
Once sauce starts to bubble, add the meatballs carefully.
Submerge all the meatballs in your sauce.
SLOWLY simmer for 3 hours, stirring frequently to prevent sticking or burning
ENJOY!