Before I even had my first Electric Bass, I messed around with an old Spanish Guitar with wound strings. In fact, I have the only known picture of that guitar that I just found in my Dad's old slides: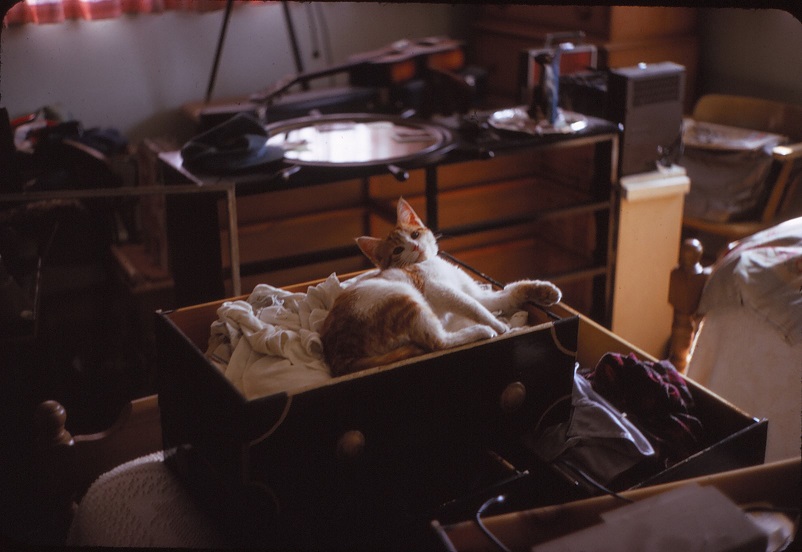 It's in the background there on top of the boxes. We were getting ready to move to St. Petersburg, Florida in the summer of 1972. That was my best friend, "Lester" the cat, who I would never see again after that summer.
As luck would have it, one day wandering around the department store with my mom, I happened to spot a record by the Ventures, which promised to
teach you how to play. The record had multiple cuts of the same tune, but it would be missing either the Lead Guitar, Rhythm Guitar or the Bass Guitar. Once I got that
record home, I was on my way. The concept that the Ventures used for those play-along records, would pass by once more.
There is a drummer, not just any drummer, in fact in my humble opinion Dave Weckl is
the best drummer on the planet. Well if you check out Dave's Website, you will find some music that is offered just like the Ventures used to do. You can buy some single cuts
or you can purchase the whole "Rhythm of the Soul" album in a version that is minus your instrument. All the charts are included. And just let me say that the musicians Dave
works and records with are some of the finest you will EVER hear!. And even better is the fact that Dave Weckl and Jay Oliver have teamed up once again with a new album called "Convergence" and you can buy a copy that is minus your instrument. Just awesome!
But what I think is so GREAT about this is it gives a musician an opportunity to sit in
with the band. Put this all together on a Digital Recorder and you can measure yourself up against these players. This is a one of a kind opportunity and wonderful learning tool.
So this now brings me to what Special Features is all about.
I am working my way through each of the tunes, trying to see just how high I can set
the bar for myself. I use a BOSS BR-80 Digital Recorder along with my Ibanez SD-GR
5-string bass and become a virtual bassist for the band. I will be lucky if I live long enough to be able to finish getting through all the songs. I am 60 and time is running short! (By the way, I am now 64 and this dream has hit the end of the line. No more playing so this is the last I was able to do. It was a GREAT run!).
I will never be able to thank Dave enough for what his music brought to my life. The inspiration of his music helped get me through some of the most devastating and painful times of my days here on earth. But ultimately to have experienced in Full Circle, what started for me as a kid with the Ventures, and to wind up taking it all the way to Dave Weckl's music with that same concept, has been a storybook ending for me. It doesn't matter if anyone ever hears this stuff. I know i did it and no one will EVER be able to take it away from me. What a GRAND RIDE it has been, so now for some more MUSCLE.
The first tune I offer up for you is titled: "Get To It". It features Gary Meek (Saxophone and Keys), Dave Weckl (Drums) and Tom Kennedy (Bass), however Tom Kennedy is letting me sit in on this one. Hope you like it: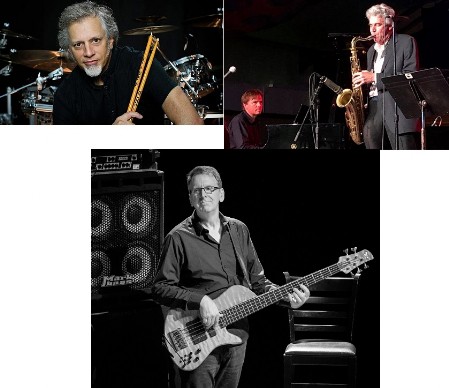 Get To It - With Garry Faegenburg on Electric Bass
11 Get To It - With Garry Faegenburg on Electric Bass
00:00
This 2nd tune is entitled: "Carousel" and comes from the new Convergence album. Again Dave, Jay, Gary and Tom join Canadian Jazz Vocalist: Emilie-Claire Barlow for an out of the ordinary tune. Once again, through the power of the BOSS BR-80, Garry Faegenburg will be sitting in on bass for this performance:

Carousel - With Garry Faegenburg on Electric Bass
12 Carousel - With Garry Faegenburg on Electric Bass
00:00
This 3rd tune, is from The Dave Weckl Band album entitled: "Rhythm of the Soul". The name of the tune is: "Someone's Watching". I searched far and wide for some way to try and find an effect on the Zoom B2.1u Pedal to get a fretless and really wavy Flange/Chorus sound. I wish I still had the strength to play fretless as they are so cool. Tom Kennedy's electric Stand-up Bass has such an awesome sound under his command. So I present to you now: "Someone's Watching" with Garry Faegenburg sitting in for the amazing Tom Kennedy: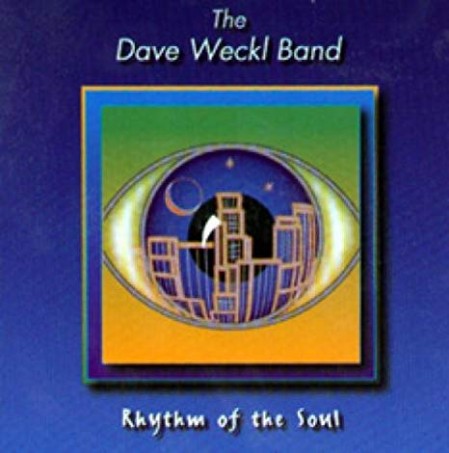 Someone's Watchig - With Garry Faegenburg on Electric Bass
13 Someone's Watching - With Garry Faegenburg on Electric Bass
00:00
This 4th tune is the title cut from the new Convergence album. I have to say up front that I know given a few dozen more hours of dedicated practice time, I could make a better showing of the ending riff, but I gotta tell you, it is way harder to play than it may sound. You will hear me garbage it up a little. Nonetheless, I didn't do too bad on the rest of it. This one is sooooo much fun to play. Dave and Jay's tunes are just killer!!!!
So I took the liberty of playing over the intro line along with the sax, just because I love the melody so much. Also because my ego is even bigger than my imagination. Anyway, I hope you like it. I now offer to you: "Convergence" with Garry Faegenburg sitting in on bass:
Convergence - With Garry Faegenburg on Electric Bass
14 Convergence - With Garry Faegenburg on Electric Bass
00:00
I always had hoped I might make it further on this project than I did. I had begun work on the REALLY hard tunes on the Convergence album, but the body gave up.
One thing that made me EXTREMELY happy, was the fact that when Dave and Jay announced the Convergence project, we all had the opportunity to help fund the project with different levels of contributions. And so while I will never live the dream of having my name on one of Dave's records as a musician, I have been given the honor to have it listed on the Convergence album as a VIP contributor. No JOKE and it was worth every penny!
Here is a scan of the inner jacket of the CD cover (the VIP Contributor names are in alphabetical order):
My tiny piece of musical history forever sealed!

So now I just spend my days going to the shooting range when I can and blasting holes through paper targets, or zipping around Illinois roads in my 850hp Shelby GT500. Watch out you Vette owners! (Just kidding Dave)!

Even started my own company: Four Score and Seven Firearms, LLC soon to be a reality. Just have to get my local permits to run the business from home and send off my application for a Federal Firearms License from the BATF.

Beats the FUCK out of seeing a therapist, let me tell ya!